Best Longboards For Beginners: A Beginner's Guide To Choosing The Right Longboard
Check out our analysis for how to get the best longboards for beginners, Longboards for Girls and Best Longboard Brands in 2023?
When you first get into something new for the first time, you are almost guaranteed to get hurt one way or another. Having said that, that is unavoidable if you want to get better.  'No pain, no gain'. Such a concept still holds true when it comes to skateboarding. However, there is a solution to reduce the chance of you falling over: longboards. Longboards not only have a bigger deck, but they also allow a much easier time to make turns than a regular skateboard. As a result, they are more beginner friendly, keeping newbies from skinned knees and elbows. But which beginner longboard is the right one for you? Where do you even start? Each person has a differnt choice, and depending on what you prefer, it is just going be a pain looking through all the possible longboard options. And that is why we are here for you. After this article, we hope that you will be able to choose the most suitable board for yourself.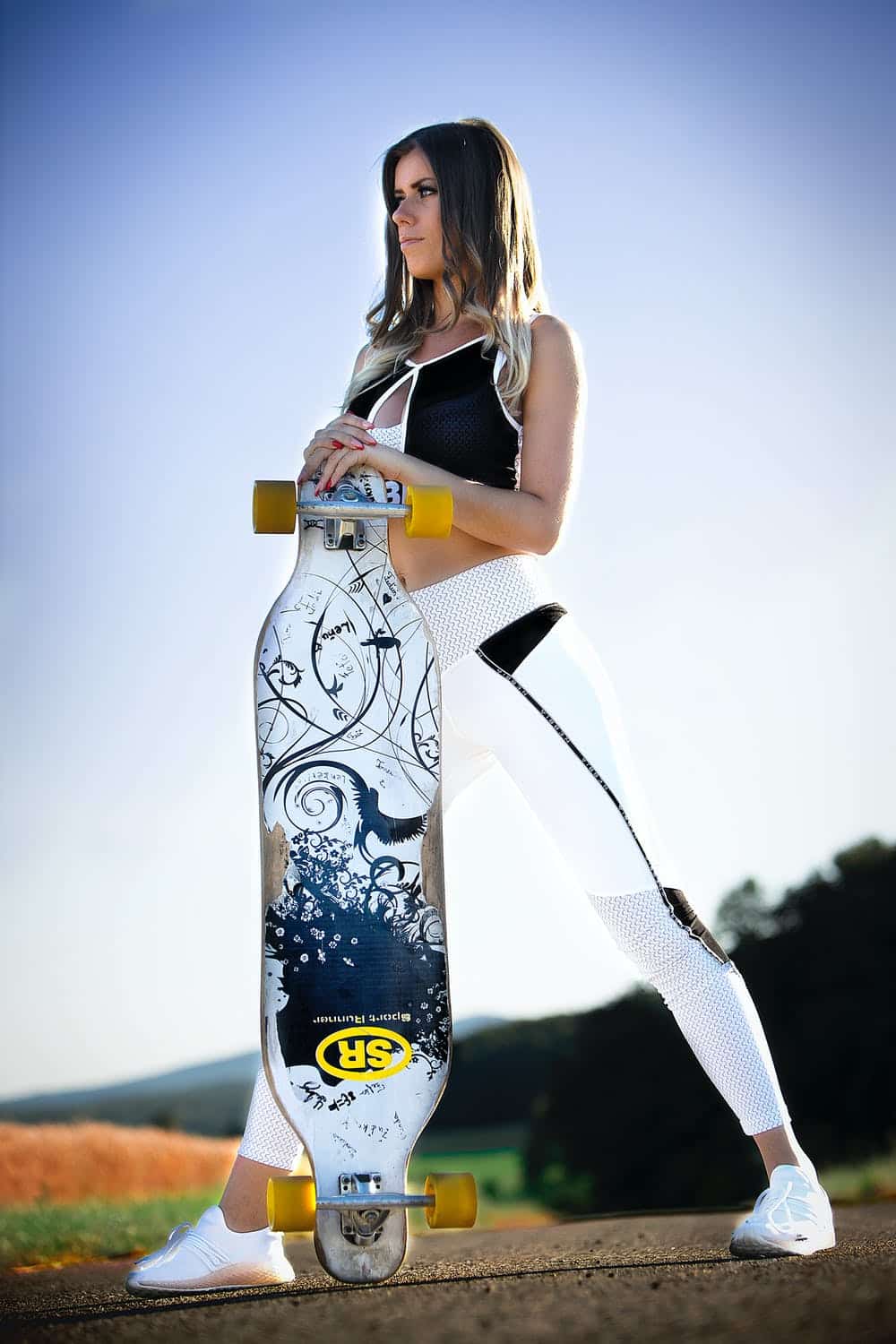 (Top 5) Best Longboards For Beginners in 2023
1.    Playshion 39inch Freestyle Longboard
B06WW15DH1
Specifications:
Size: 39 inches x 9.1 inches
Deck: 8 ply flex hardwood maple
Trucks: 7-inch aluminum reverse kingpin trucks
Bearings: ABEC 7 bearings
Wheels: 70 mm x 50 mm SHR 78A Polyurethane wheels
Weight capacity: 250 lbs.
Weight: 7 lbs.
The Playshion Freestyle, measured at 39 x 9.1 x 4 inches, is quite a versatile beginners longboards, suitable for a variety of activities like cruising, curving, downhill, freeride, and freestyle.
Thanks to the 8 layers of flex hardwood maple along with the flat and balanced design, this longboard is not only durable but also flexible. With the concaved deck, you will have an easier time balancing your feet on the board during those turning and carving maneuvers.
In addition, the 7-inch aluminum trucks come equipped with adjustable kingpin, making sliding a breeze with the Playshion Freestyle. The board also features a drop-through design and 4 inches of ground clearance that allow ease of breaking and pushing. No matter who you are, kids or adults, this board can perform just fine, not to mention that it is capable of holding up to 250 pounds.
The Playshion Freestyle offers 70x50mm SHR Polyurethane wheels that is 78A certified on the hardness scale. With such a wide and durable set of wheels, you will not have any trouble controlling the board.
When it comes to the bearings, the board is equipped with ABEC 7 ones that guarantee toughness and sturdiness. They are strong enough for firm steering while soft enough for a more pleasant ride. Different from most other boards, the Playshion's bearings do not make squeaky noise thanks to the nylon ball cages that minimize friction.
For a board of its size, the board only comes in at 7 pounds, making it lightweight and easy to carry around.
Cons
While advertised as beginner friendly, the Playshion Freestyle is not as safe as it claims to be. In addition, in some cases, the squeaky wheels do happen and can bring down your mood during those enjoyable rides.
2.    Atom Drop Deck Longboard
B0056IXSEQ
Specifications:
Size: 41.7 inches x 10.6 inches
Deck: Maple wood
Trucks: 9.6-inch aluminum trucks
Bearings: ABEC 9 bearings
Wheels: 70 mm x 51 mm PU wheels
Weight: 7 lbs.
If you have just got into skateboarding, especially downhill riding, then the Atom Drop-through Longboard is your perfect choice. The board is stable and steady, suitable for cruising down the streets or steep roads. In addition, the board comes in two different sizes at 41 inches and at 39 inches. In this article, I will look at the 41-inch model, but you can expect basically the same review for the 39-inch one. The Atom Drop-through features a wide color selection and yet, its asking price is very affordable. The deck is made of strong laminated maple wood and provides a well-balance experience thanks to a good level of flex. The grip tape maintains a firm grip between your feet and the deck, ensuring that you will not fall off the board. To add more to its stylish design, the board also includes a graphical drawing on the bottom and a small logo on the grip tape.
The board comes in at 8.8 pounds and features 245-mm aluminum trucks that are adjustable depending on your preference.
To make it even more durable and shock-absorbing, the Atom makes use of the 70 mm wheels with a 78 A durometer as well as a set of ABEC 9 bearings.
The board is designed with a low center of gravity so you will be able to maintain good balance and stability in whatever you do, either cruising down the hill or going off the curb.
Cons
While the smooth standard bearings are suitable for beginners, it is still recommended to have them replaced once you have got used to longboarding. This, however, is not really a weakness.
The trucks leave something to be desired, but for the price, they are decent enough. The trucks will become a problem if you are a bit overweight, otherwise, you can enjoy riding those same ones.
3.    Volador 42-inch Freeride Longboard
 B01MY04A5G
Specifications:
Size: 42 inches x 9 inches
Deck: 8 ply natural Hardrock maple
Trucks: 7-inch aluminum reverse kingpin trucks
Bearings: ABEC 9 precision bearings
Wheels: 70 mm x 51 mm PU wheels
Weight capacity: 250 lbs.
Weight: 6 lbs.
While the Volador is available in two different sizes at 42 and 46 inches, we will focus more on the 42-inch model. When it comes to the design, the Volador 42-inch Freeride Longboard is a looker. Both on the top and the bottom of the board feature artisan graphics. The illustrations on the grip tape really pop out on the dull black deck. Speaking about the deck, it is made of an 8-ply natural hard rock maple wood and packs a vintage look. One of the more striking aspects of this board is that all its materials are environmentally friendly.
The deck comes equipped with 7-inch aluminum trucks as well as reverse kingpins. The kingpin trucks are adjustable up to 45 or 50 degrees, enhancing any sort of movements. At a beginner level, this board is more than well-balanced and stable. The Volador includes the 70 mm x 51 mm 78A PU wheels and the ABEC 9 bearings, both of which are known for their stability. Considering its big size, the 42-inch board only weighs in at 7.3 pounds.
No matter how you choose to use the board, whether heading to school or going to the market, you are guaranteed to have a fun time. Not only so, the board can help you have an easier time learning skateboarding and making tight turns. It is also designed with the safety of the rider in mind, so even when you are turning or cruising downhill, you are always freed from worry.
Cons
Some people might find the choice of wheel color on the Volador questionable. While the white wheels are certainly eye-catching out of the box, after some time, they can get noticeably dirty. The wheels play an important role in making the board stands out, so if they get all cloudy and muddy, the entire look of the board can be ruined. Unless you clean the wheels every time after a ride, the Volador will become dull eventually. Other than that, the board is a solid choice at a reasonable price tag.
4.    Ten Toes Skateboard
 B07NDHPMQF
Specifications:
Size: 42 inches x 9.4 inches
Deck: 8 ply Canadian maple wood and Bamboo
Trucks: 7-inch aluminum trucks
Bushings: 90A PU bearings
Bearings: ABEC 7 Nylon bearings
Wheels: 70 mm x 51 mm PU wheels
Weight carrying capacity: 220 lbs.
Weight: 8 lbs.
For a model as solid as the Ten Toes, it is a miracle that you do not go bankrupt after getting the board. Not only it is affordable, the board is also super durable and will not require replacements even after a good hustle.
The board, stretches 44.1 inches in length and 9.4 inches in width, was designed in Los Angeles and features a high-quality bamboo deck, showing off a vintage and stylish look. Additionally, the board comes in different lively colors and a variety of designs as well as graphics, from aqua fishtail, black pipeline to marine layer and sapphire sunset. The eye-catchy board is strong enough to support a stable and smooth ride experience.
The milled wheel wells are sure to minimize any form of damage from wheel bite. The 7-inch aluminum trucks come with PU cast black bushings, while the 70 mm x 51 mm wheels, rated at 85A hardness, have ABEC 7 bearings. With all these bells and whistles, the Ten Toes is still very lightweight and easy to bring with you anywhere. When it comes to riding, the board provides a great turning radius and a smooth ride overall, fitting for cruising around town and making those tight turns.
Cons
The wheels are softer than desirable but at a beginner level, there should not be any problem in turning and sliding. Having said that, the 85A certified wheels do ensure a shock absorbing experience so you will have peace of mind when riding. Another downside of the board is that you will need to replace the bushings and bearings sooner or later.
5.    Rimable Drop-through Longboard
B07BZW6H24
Specifications:
Size: 41 inches
Deck: 9 ply Bamboo and maple wood
Trucks: 7-inch aluminum trucks
Bearings: ABEC 9 bearings
Wheels: 70 mm x 51 mm PU wheels
Weight: 8 lbs.
Rimable has long been well-known for their affordable and durable boards, which are the values that you look for at a beginner level longboarding. Since it is your first time jumping on a board, you must ensure that it does not go too deep into your budget while providing a reliable experience after a good beating.
At such a starting point, the Rimable Drop-through is more than good enough. The board features laminated deck, made from 9 layers of ply maple wood and bamboo. In addition, you will draw a lot of attention to yourself, carrying Polynesian graphics embedded on to board. The grip tape on top offers a firm gripping area so you will not have to worry about falling over during your rides. Furthermore, the standard 70 mm x 51 mm PU wheels are certified at 85A on the hardness scale. On top of the heavyweight bamboo deck, the board also comes equipped with 7-inch aluminum trucks as well as a set of ABEC 9 bearings. If taken care of properly, those bearings will not be easily worn out and end up being replaced like most other boards. All in all, who would have thought that a well-built board like this Rimable Drop-through board is measured at 41 inches and only weighs about 8 pounds.
Cons
Both the wheels and trucks on the board leave much to be desired where the latter might require replacements after some time. The problem that these wheels tend to have is built-up dirt. Otherwise, considering the price point and what the board offers in terms of value, such kind of drawbacks can be overlooked. Overall, this Rimable model is a pretty solid steal.
Unique Features
After all those tests and reviews, there are reasons why these beginner longboards have made it on to our list. They all have their unique features and are steered towards beginners and newbies. If you happen to fall in this novice category, we have some tips for you. While the bearings on a longboard are durable, it is quite rare that they actually last, so it is recommended that you have them replaced right after. The cost for the replacement is cheap but your experience will be improved significantly afterward. Our personal favorite are the Bones red bearings so give them a try if you want. Moving on to the bushings, any kind of medium bushings will be good. Please do let us know which of these boards work for you in the comment section below. Have fun and good luck with longboarding!
If you're a beginner looking to learn how to longboard, you'll find that there are many types of longboards to choose from. Longboards are designed to be lower to the ground, with a longer wheelbase, which makes them great for beginners. They are stable and easier to keep your feet on, which makes them a popular choice for those just starting out. When it comes to choosing the best beginner longboard, there are many options to consider. From pintail longboards for cruising at high speeds, to drop-through longboards that are easier to balance and push, there are many great options available. We'll take a look at some of the top longboards for beginners, including cruiser longboards, freeride longboards with soft wheels, and freestyle boards with harder wheels. If you're looking to pick the best beginner longboard or just want to learn more about riding your longboard, this guide has everything you need to get started.
Choosing The Right Longboard For Beginner Longboarders
Beginner longboards are an excellent alternative for beginners since they often have a longer wheelbase, are lower to the ground, and are easier to push. Beginners might choose drop-through longboards as well because of their lower centre of gravity and ease of manoeuvrability. A cruiser board with a broad deck and symmetrical form can be ideal for you if you're searching for a beginning longboard that's great for cruising. You're into downhill longboarding, freestyle tricks or just cruising around, there are many quality boards available from various brands that will provide you with a smooth ride and a great longboarding experience.
Carving Longboards For Beginners
For beginner longboarders, a drop-through or drop platform board, like the Landyachtz Drop Cat, is a great option. Longboards are stable with a low center of gravity and come in different shapes and sizes for different types of longboarding. Bamboo and maple are commonly used materials. A symmetrical shape is perfect for longboard tricks while a top-mount board with a kicktail is suitable for downhill longboarding. Longboards are great for cruising, snowboarding or surfing. Many brands sell beginner longboards that are wide and long enough for stability.
Drop-Through Longboards For Beginners
Drop-through longboards are a great option for beginners who are looking for a stable and low-to-the-ground type of board. With a long wheelbase and a wide deck, they're perfect for cruising and also suitable for downhill longboarding. If you're a beginner longboarder looking for your first board, a drop-through longboard is a great choice. Many brands sell beginner longboards that are long and wide enough for stability, and they often come with trucks mounted on top of the board, making it a good choice for beginners. These longboards are perfect for cruising and many brands sell boards specifically for beginners.
Best All-Around Longboards For Beginners
For beginners, the best all-around longboards are those that are low to the ground and suitable for various types of longboarding. A great beginner board is one that is stable, easy to ride, and suitable for cruising, carving, and even downhill longboarding. Many longboards tend to be low to the ground, making them a great choice for beginners. Top-mounted trucks are a good choice for a beginner longboarder. Longboards often come with a wide deck and are perfect for beginners. Some longboards are also suitable for more advanced riders who want to try different types of longboarding.
Best Beginner Longboard On The Market
The Sector 9 Highline Shine Complete is considered one of the best beginner longboards on the market. It has a stable and low-to-the-ground design, making it perfect for beginners who are looking for a smooth and easy ride. The top-mounted trucks make it easier to turn and carve, while the wide deck provides stability and balance. It's also suitable for cruising and even some downhill longboarding. The Sector 9 Highline Shine Complete is the perfect longboard for beginners who are looking for a high-quality, versatile, and affordable option.
Longboard Riding Styles For Beginners
For novices, longboarding provides a variety of riding techniques to try. Popular riding techniques like cruising put an emphasis on riding pleasantly and steadily. Smooth rotations must be made while maintaining speed during carving. Advanced riders who want to do slides and tricks should use freeriding. Longboarding that involves riding down steep hills at high speeds is known as downhill longboarding. Beginners should take care to select a longboard that is appropriate for their intended riding style. Many longboards have top-mounted trucks, which makes them a fantastic option for novices who want to try out various riding techniques.
Conclusion
In the end, choosing the best longboard for beginners requires considering factors such as type of longboard, riding style, and top-mounted trucks. The Sector 9 Highline Shine Complete is a great choice for beginners, with its stable and low-to-the-ground design, making it perfect for cruising and some downhill longboarding. It's also affordable and versatile enough to explore different riding styles. As a beginner, it's important to prioritize safety and choose a suitable board that will allow for a smooth and comfortable ride. With many longboards coming with wide decks and top-mounted trucks, beginners have a variety of options to choose from that are suitable for their level of experience. The key is to find the perfect longboard that meets your needs and helps you achieve your desired riding style.
Frequently Asked Questions (FAQs)
If you've still got questions about best longboards for beginners, then these may help:
The Best Longboard For Beginners?
As a beginner, you'll want a board that's suitable for your skill level, with top-mounted trucks that offer stability and control. The first longboard you choose should be easy to ride and versatile, so you can explore different riding styles as you gain experience. Look for a board that's also affordable and durable, so you can get the most out of your investment. With the right beginner's guide, you'll be able to find the perfect longboard to kick off your skateboarding journey.
What Is A Fair Price For Mini Cruisers?
Depending on the brand and quality, small cruiser prices might vary. Find a board that fits your budget when you're a novice looking for a good board. Mini cruisers typically cost $50 to $150, with better boards costing more. It's crucial to spend money on a board that will last you for a while, but it doesn't have to be expensive. Look for a board with top-mounted trucks that meets your demands as a beginner, offers stability and control, and is within your budget.
What Should I Learn For Riding On A Longboard For The First Time?
There are a few important considerations to make if you're riding a longboard for the first time. Before attempting to ride the board, it's crucial to get your balance. To gain a sense of the board's balance, practise standing on it with both feet while moving your weight from side to side. Next, practise pushing off and riding straight while maintaining a balanced position over the board. After you have a firm grasp of these fundamentals, you may begin to practise turning and stopping. To prevent harm, always use safety equipment and move gently.
What Is The Difference Between Freeride And Carving Longboard?
Freeride and carving longboards are two different types of longboards designed for different styles of riding. Freeride longboards are designed for sliding and drifting, allowing the rider to make quick and sharp turns at high speeds. Carving longboards are designed for cruising and carving, with a focus on smooth and fluid turns. Freeride boards tend to have stiffer decks, wider trucks, and smaller wheels, while carving boards have more flex, tighter trucks, and larger, softer wheels. The choice between the two types of boards depends on the rider's preferred style of riding and the terrain they plan to ride on.
What Size Longboard Is Best For Beginners?
For beginners, finding the appropriate longboard size is essential. Pick a board that is between 38 and 42 inches long as a basic rule of thumb. With this size range, beginners may learn to ride their longboards safely and comfortably. Additionally, because it provides a secure platform to stand on, novices should search for a board with a broad deck that is low to the ground. Additionally, the trucks ought to be installed on the top of the board, which gives novice riders more stability. The ideal longboard size is ultimately determined by the rider's preferences and planned riding style.