Choosing a new vape from today's over-saturated market is a real pain. Without comparing a sheer amount of information, making a sound and fully-informed decision is impossible. But no worries, we have analyzed on your behalf, and have enlisted some of the best products out there. The list carries vaporizers from renowned brands, which we trust the most. So, let's help you find what suits your needs.
5 Ultimate Vaporizers Reviewed
1)   Yocan Regen
It is certainly a vaporizer for heavy hitters, having dual quartz Yocan Coils that produce big clouds and intense flavor. Three voltage settings (3v, 3.5v, 4v) allow you to tune the intensity as per your need, making it suitable for not only the advanced users but also the newbies.
As for Yocan Regen's battery timing, it isn't great. But if you keep the vaping moderate, it may last for many hours. Overall, the device gives out satisfactory performance. Not to mention, it is highly portable, sturdy, and gives good value for money.
Features
Compatibility: wax, dab
Battery: 1100mAh
Heat-up time: 5-10 seconds
Three voltage settings
USB charging cable
2)   Arizer Solo 2
Without a second thought, Solo deserves to be on this listicle because of its outstanding battery life. It can withstand heavy use for three full hours non-stop, which is unprecedented for a portable vape pen.
Let's not forget to mention the fantastic flavor it delivers. The device gives out mouth-watering vapors and huge clouds due to the ceramic/stainless steel heating system. On the front, there are sleek digital controls, allowing you to give commands with ease and vividly monitor the device's status.
Features
Precise temperature controls
Hybrid heating system
Heat-up time: 20 seconds
Digital display
Glass aroma tubes
Battery time: three hours
3)   Pax 3
Despite being old, Pax still rocks the industry. Though bigger than the latest vape pens, it is an impressive all-around device. Compared to its previous models, we can expect everything better — improved functionality, enhanced performance, and more delicious vapors.
Pax 3 carries four distinct temperature settings, each responsible for extracting specific flavor from the plant matter. The first two are for light and smooth experience, while the last two gives out intense clouds. If you are new to vaping, you can start from level one and slowly proceed to level 4. This way, you won't get the harsh sensation in the throat.
Features
Compatibility: concentrates and flower
Anodized aluminum shell
Haptic feedback
Heat-up time: 15 seconds
Full-color LED interface
Four temperature settings
Internal accelerometer
4)   Firefly 2+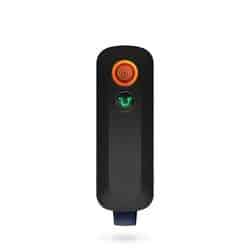 Look wise, it stands out and doesn't resemble any regular vape pen. After receiving many complaints on the previous model, they made 2+ models 50% lighter and 30% smaller, making it easy to carry around.
The device is outfitted with convection heating technology that delivers flavorsome vapors, big and dense clouds. Other than that, it gives you six temperature options, each giving out a different hit. One thing that you must remember, firefly needs a smartphone to operate at its full potential.
Features
Touch sensor activation
Six temperature settings
Convection heating
Glass heating chamber
Small and light build
Fast charging
5)   Mighty
Mighty reigns over the industry and is touted as one of the best dry herb vaporizers currently available. The praise comes from its high-end vapor quality, and amazing battery life — one charge can last for a whole weekend. Sounds pretty amazing, right?
Further, the device can be used while still on the charge due to the pass-through charging feature. It means, even if it runs out of battery, you can still carry on with your vape session. How impressive is that? It is indeed an investment that will pay off soon.
Features
Efficient heating
Wide heating chamber
Long-lasting battery life
Fast heat-up system
LED display
Built-in safety feature
Study built